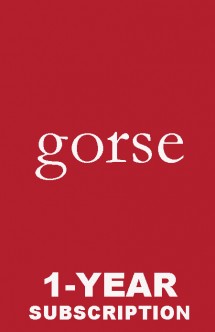 gorse, one-year sub (three issues)*
Subscriptions begin with the forthcoming issue, gorse no. 11 (April 2018). If you would like you subscription to begin with another issue, just add a note.
Ireland €35
Subscribe
UK / Europe / Rest of the World €45
Subscribe
Alternative method of payment
If you don't have a credit card, you can make a direct payment to our bank account (details below) and email us your address: info@gorse.ie. You make the payment using your online banking services, or in your local branch. Please enter your name on the narrative space when making the transaction, then send us an email (remembering to include your contact details) with the subscription (Ireland or UK/ROW) and the date of payment. We will start your subscription as soon as the payment has been received.
Branch: 11 Upper Georges St., Dun Laoghaire
Account name: Gorse
Account number: 23027334
Bank sort code: 990604
BIC: IPBSIE2D
IBAN: IE75IPBS99060423027334
*Please note: special issue gorse no. 10 is not included in the yearly subscription, a one-year subscription for 2018 will include no. 11 (November 2018), no. 12 (April 2018), no. 13 (September 2019). Subscribers will be able to order no. 10 at a discount. More details to follow.
One-year Subscription
For one year, receive new issues of gorse from only €35.
Each issue will be delivered before its publication date – the best way to receive the "most vital and outward-looking of Irish literary journals," "one of the most beautiful and professional, and groundbreaking, literary journals of the 21st Century in Europe."