The Sky Has Gone Mad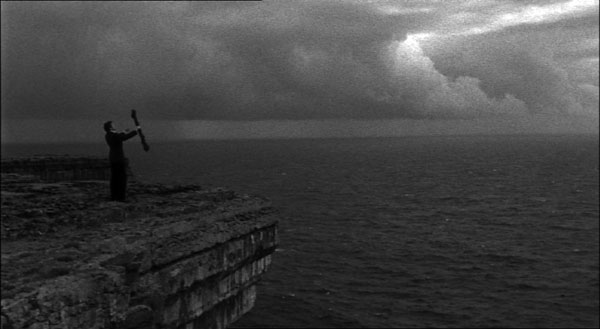 By Susan Tomaselli.
'In every man sleeps a prophet.' E.M. Cioran
In 1937 French actor, theatre director, poete maudit and dissident Surrealist Antonin Artaud travelled to the Aran Islands in the West of Ireland to return what he believed was the staff of Saint Patrick to its rightful owners. While there, it is said he lost his mind. There is scant information as to what exactly happened, though we do know it was a headlong rush towards psychic breakdown. A constellation of writers and artists have imagined the journey: Aidan Mathews in his radio-play Saint Artaud (2006), Patrice Trigano in the novel La Canne de saint Patrick (2011), Cecilia Bullo's walking performance Metanoia I (2011) and Olwen Fouéré has mapped it in live installations, Here Lies (2005/6). It's the subject of a 2009 documentary by Rossa Mullin – Artaud in Aran – and has been refracted through the lenses of Irish experimental filmmakers Vivienne Dick and the late Patrick Jolley, and it's their interpretations this essay will mostly focus on.
Patrick Jolley's The Door Ajar (2011) – 'I want to make a book that will change all men. That will lead them where they never consented to go…a door simply ajar on reality.' – is not a precise retelling of what happened during Artaud's six week sojourn, so we shouldn't consider it a documentary in the traditional sense of the word. Instead, Jolley creates a 'fictional persona, a surrogate, one of Artaud's lifelong concerns, through a play on the contradictions inherent in his character and pronouncements to piece together a fragmented narrative of emotional states,' an assemblage based on Artaud's own texts. (A digression: fragment will be a recurring word in the story of Artaud—the man ruined, half-destroyed; the work fissured, or as Susan Sontag puts it, a 'broken, self-mutilated corpus, a vast collection of fragments;' Artaud's Fragments of A Diary From Hell.)
Jolley's work – across photography, installation and film – is rooted in 'elemental phenomenology.' 'The way in which Jolley employs the elements,' writes Nicolas de Oliveira and Nicola Oxley, 'places both his subjects (and, by implication, the viewer) in a liminal place, a threshold, a transformation.' His poetic, fractured sequences are suited to the Artaud 'narrative,' a narrative made richer by omission. Jolley's nonlinear structure deliberately confuses what is real to 'Artaud' and what is hallucinated or dreamed. It opens with a ship at sea – a man adrift – the water appears relatively calm. Inside a cabin, Jolley's surrogate 'Artaud' (or double, if you like) opens a cloth sack and retrieves a gnarled staff. Smoke fills the room. He peers into the sack, inhales and disappears inside. 'The end is the beginning…' 'Artaud' is floating face down in water, the tide laps against his motionless body (a body not yet ravaged by electroshock treatment, nor by starvation or beatings). 'Artaud' has landed in the port of Cobh, County Cork. It is 14 August 1937. From here 'Artaud' makes his way north to Dublin, then west across to Galway by train, and finally to Inis Mór on the Aran Islands by boat-ferry. He has come to a people uncorrupted by greed—folk he would have read of in J.M. Synge's The Aran Islands (1907)—to a land of ancient stories and dolmens, journeyed to this distant slab of dark-grey limestone ('I have seen nothing so desolate,' wrote Synge) looking for the last true descendants of the Druids. He has come to rediscover fundamental truths.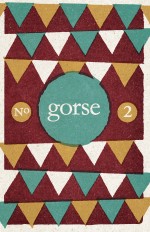 [This is a short extract, the full article is available to read in Issue Two]
ABOUT THE AUTHOR
Susan Tomaselli is the editor of gorse. She has written for the Guardian, The Stinging Fly, 3:AM Magazine and elsewhere. She lives in Dublin.
[Image: The Door Ajar, courtesy Patrick Jolley Estate]