this is no longer entertainment, a Dostoyevsky Wannabe event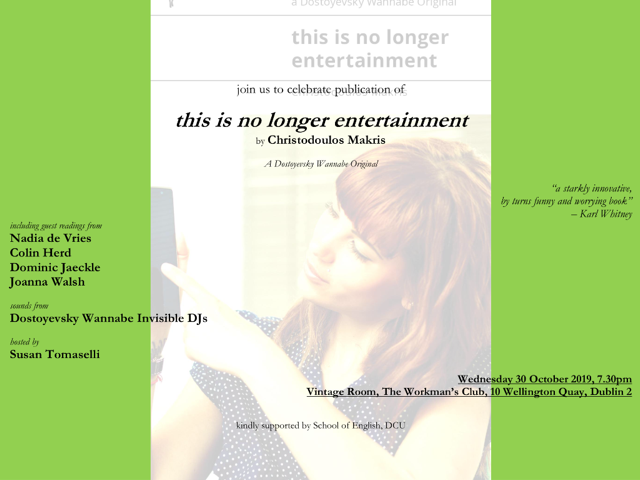 this is no longer entertainment (A Documentary Poem)
by Christodoulos Makris
Published by Dostoyevsky Wannabe
Wednesday 30 October 2019, 7.30pm.
Free Entry.
A celebration of the publication of 
this is no longer entertainment
by 
Christodoulos Makris
. Joining the author with guest readings are 
Nadia de Vries
, 
Colin Herd
, 
Dominic Jaeckle
, and 
Joanna Walsh
. Sounds courtesy of Dostoyevsky Wannabe Invisible DJs. The event is hosted by 
Susan Tomaselli
, and it is kindly supported by The School of English, DCU.
About the book: 
this is no longer entertainment
 is formed entirely out of untreated anonymous or pseudonymous text found in the open comments sections of media websites and other digital platforms. It was composed by filtering this un-authored writing through a process of immediate, instinctive selection and reframing, which is inevitably modulated by the author's interests and emotional temperature. The poem's composition roughly covers the period 2014-2017; a period marked by a range of notable social-political shifts and events.
"A starkly innovative, by turns funny and worrying book" – Karl Whitney
About the author: 
Christodoulos Makris
 is "one of Ireland's leading contemporary explorers of experimental poetics" (The RTÉ Poetry Programme). He has published several books, pamphlets, artists' books and other poetry objects, with 
The Architecture of Chance
 (Wurm Press, 2015) a poetry book of the year for RTÉ Arena and 3:AM Magazine. He has presented his work internationally, and has received awards, commissions and residencies from the Irish Museum of Modern Art, StAnza Festival (Scotland), European Poetry Festival, and Maynooth University among others. He is the poetry editor at 
gorse
 journal and associated imprint Gorse Editions.
About the publisher: 
Dostoyevsky Wannabe
 is an experimental independent press publishing books and other underground things, based in Manchester. It is operated by Victoria Brown & Richard Brammer.