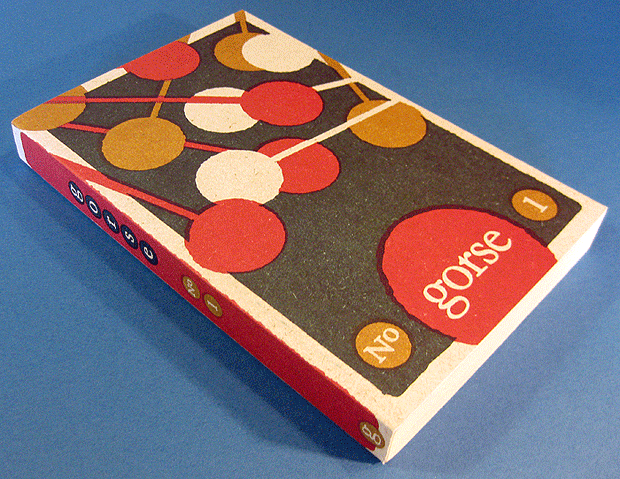 [Image: Niall McCormack]
Issue one of gorse is available in Chapters Bookstore, and Books Upstairs, Dublin, Charlie Byrne's Bookshop, Galway, Green Apple Books, San Francisco, Shakespeare & Co., Paris and Foyles, Charing Cross Road, London. If you are an independent bookshop and are interested in stocking us, please do get in touch.
We will, of course, continue to fulfil orders through our website while stocks last, but we would remind you, issue one is a limited edition of 350 copies and we will not be reprinting gorse in this format. We would like to thank everyone for their support so far.
If you would like to get involved with gorse, there's details here on how you can help reward our writers for taking risks.
---
Recently on gorse
1. We Whispered to Each Other Across the Irish Sea: An Essay About Intimacy & the Internet, by Michael N. Shanks.
2. 'Regeneration Seeks Amnesia,' What happened at Heygate: Art after Occupy, an essay by Joanna Walsh.
3. 'Gass Apology,' Kevin Breathnach's letter of apology for failing to write a review of On Being Blue by William Gass.
4. '20 x C + M + B x 14,' an essay by Alan Cunningham.
5. Susan Tomaselli interviews Rob Doyle.
6. Episode 1 of our new podcast: Invisible City. Tune in!
7. Colm McAuliffe interviews Brian Dillon.
If you would like to submit an essay, review or interview, please read our guidelines here.
---
News
1. The Circa Words experimental writing weekend we took part in with John Holten (gorse no. 1) over Bloomsday weekend gets a mention in the Irish Times (and moderator Dave Lordan's report can be read here).
2. Congratulations to Matthew Jakubowski (gorse no. 1) whose experimental review, Honest Work, won a 3QD prize. There will be more from the Critic in gorse no. 2.
3. Extremely pleased to hear that Alan Cunningham (gorse no. 2) will continue writing the New Green Fool project with help from the Arts Council of Northern Ireland. We have featured bits of it here and there. Alan is also the author of Count From Zero to One Hundred, one of our novels of 2013.
4. "Vanguardia Irlandesa," is how La Tempestad describe us in a recent write up. We'll take that. Muchas gracias.
5.1 The Rob Doyle (gorse nos. 1 & 2) juggernaut continues to roll (and deservedly so) with an Irish Times review by Peter Murphy and a TV3 television interview.
5.2 Our friend Darran Anderson (gorse no. 1) has interviewed Rob for The Honest Ulsterman's July issue. Go read.
---
Subscribe to our Newsletter | Follow us on Twitter | Like us on Facebook