Subcritical Tests
Ailbhe Darcy & SJ Fowler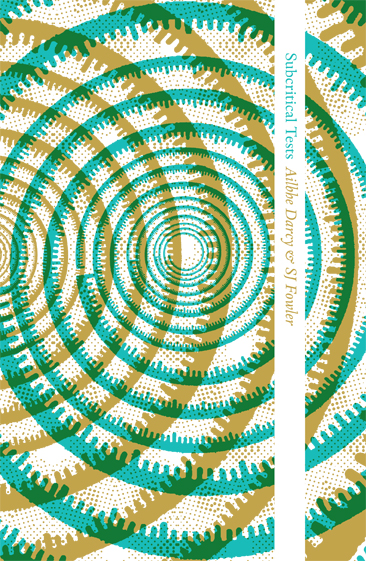 ISBN: 978-0-9928047-8-7
May 2017, Paperback Original with French flaps, 96 Pages
[Poetry]
About the book
The nearness of nuclear holocaust, always just one clumsy accident away, forms an entry point into this record of a friendship. The poems in Subcritical Tests stubbornly make connections, ever conscious of the impending threat of annihilation. Oblique, modern, lyrical, humorous, these poems represent the range of Ailbhe Darcy and SJ Fowler's individual practices, modulated and melded through the collaborative process.
About the authors
Ailbhe Darcy grew up in Dublin. After completing a PhD at the University of Notre Dame, she lived for two years in Münster, where she completed this collaboration with the help of a literature bursary from the Irish Arts Council. Her recent poems appear in POETRY, Poetry Wales, Poetry Ireland Review and the Wake Forest Series of Irish Poetry. She is currently lecturer in Creative Writing at Cardiff University.
SJ Fowler is a poet and artist. He works in the modernist and avant-garde traditions, across poetry, fiction, theatre, sonic art, visual art, installation and performance. He has published various collections of poetry and text, and been commissioned by Tate Modern, BBC Radio 3, The British Council, Tate Britain, Liverpool Biennial and Wellcome Collection. He has been translated into twenty-one languages and performed at venues across the world, from Mexico City to Erbil, Beijing to Tbilisi. He is the poetry editor of 3:AM Magazine, lecturer at Kingston University, teaches at Tate Modern and is the curator of the Enemies Project.
Praise for Ailbhe Darcy & SJ Fowler
'Her work is funny and stylish, with an agile, zesty erudition and no lack of political fire.' The Guardian
'If you think poetry is some sedate pursuit carried out in an ivory tower then you obviously ain't read Steven Fowler. He makes Bukowski look like Billy Childish and Billy Childish look like William MacGonagall!' – Stewart Home
Reading from Subcritical Tests