About
gorse is a print journal published in Dublin, featuring longform narrative essays, original fiction, poetry and interviews.
gorse is an exploration of the art of words. gorse is interested in the potential of literature, in literature where lines between fiction, memoir and history blur, in the unconventional and the under recognised. Our influences include, but are not limited to, Hubert Butler, The Bell, the Paris Review, The White Review, & transition.
Masthead
Editor: Susan Tomaselli
Poetry Editor: Christodoulos Makris
Eagarthóir: Aifric Mac Aodha
Praise
"A strangely innovative creature." – tn2
"A terrific looking magazine. Continental in feel and full of substance, with an elegant format." – Antony Farrell, Lilliput Press
"In it's short life to date Gorse has emerged as among the most vital and outward-looking of Irish literary journals." – Billy Ramsell
"Visceral, arresting." – Sarah Davis-Goff, Tramp Press (a favourite read of the year, Sunday Independent, December 2014)
"One of the most exciting recent arrivals on the scene." – Nicholas Royle (introduction to Best British Short Stories 2015, Salt Publishing)
"gorse in particular has been exciting to me since its inception a couple of years ago because it has a more European, avant-garde sensibility, which I felt was lacking in Ireland previously." – Rob Doyle (quoted in 'The Irish literary journal's irresistible rise,' Irish Times, September 2015
"gorse succeeds in breaking new ground […] this is literature that cuts through its readers' expectations. It's a risky hand, played with consummate authority by Susan while she questions whether that editorial authority is ever achievable when language itself plays a more duplicitous, more complex, a more multifarious game in the hand of the reader." – Selina Guinness, curator of Salon Nights, writer-in-residence with Dun Laoghaire Rathdown County Council (2015-2016)
"It's certainly a work of great beauty even before you open it. After only four issues it's become one of the most regarded journals around." – Daniel McCabe, Magelleria
"One of the very best literary magazines in Europe, if not, without hyperbole, the world. The extraordinary gorse, genuinely cutting new ground in 21st [century] literature." SJ Fowler
"It's not only in the lovely muted post-war colours that gorse resembles the great Penguin New Writing." – Nicholas Royle
"[gorse] has quickly established itself as an exciting presence on the European literary scene." Mountains to Sea Festival
"I can't think of a better literary magazine than gorse – it combines assured editorial judgement with startlingly original content." – The Idler (UK)
Press
Totally Dublin Roadmap pick, March 2014
'Fully loaded magazine,' tn2 feature, April 2014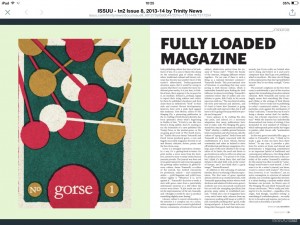 "One of the city's brightest and best ideas, realised and executed supremely." – le Cool, November 2014
"gorse takes a wide view of literature. At a time when other outlets are narrowing their respective views, this outlook is not merely exciting, it is crucial." – 3:AM Magazine, June 2016
"A ground-breaking print journal edited by the visionary Susan Tomaselli." – 'The rise of the Irish literary magazine,' Sunday Independent (IRL), March 2017
'Press Play,' Sunday Business Post, July 2017
Specifications
Designed and typeset by Susan Tomaselli.
Cover design by Niall McCormack.
Frequency
Vol I (gorse nos. 1-4), twice-yearly
Vol II, published three times a year (March, July, November)
Format
Vol I (gorse nos. 1-4) 260 pages
Vol II 200 pages, 129mm × 198mm, on Munken Cream
Print
Printed by Naas Printing in Kildare, Ireland
Distribution
Self-distributed. If you would like to stock us, please get in touch.