Art + Writing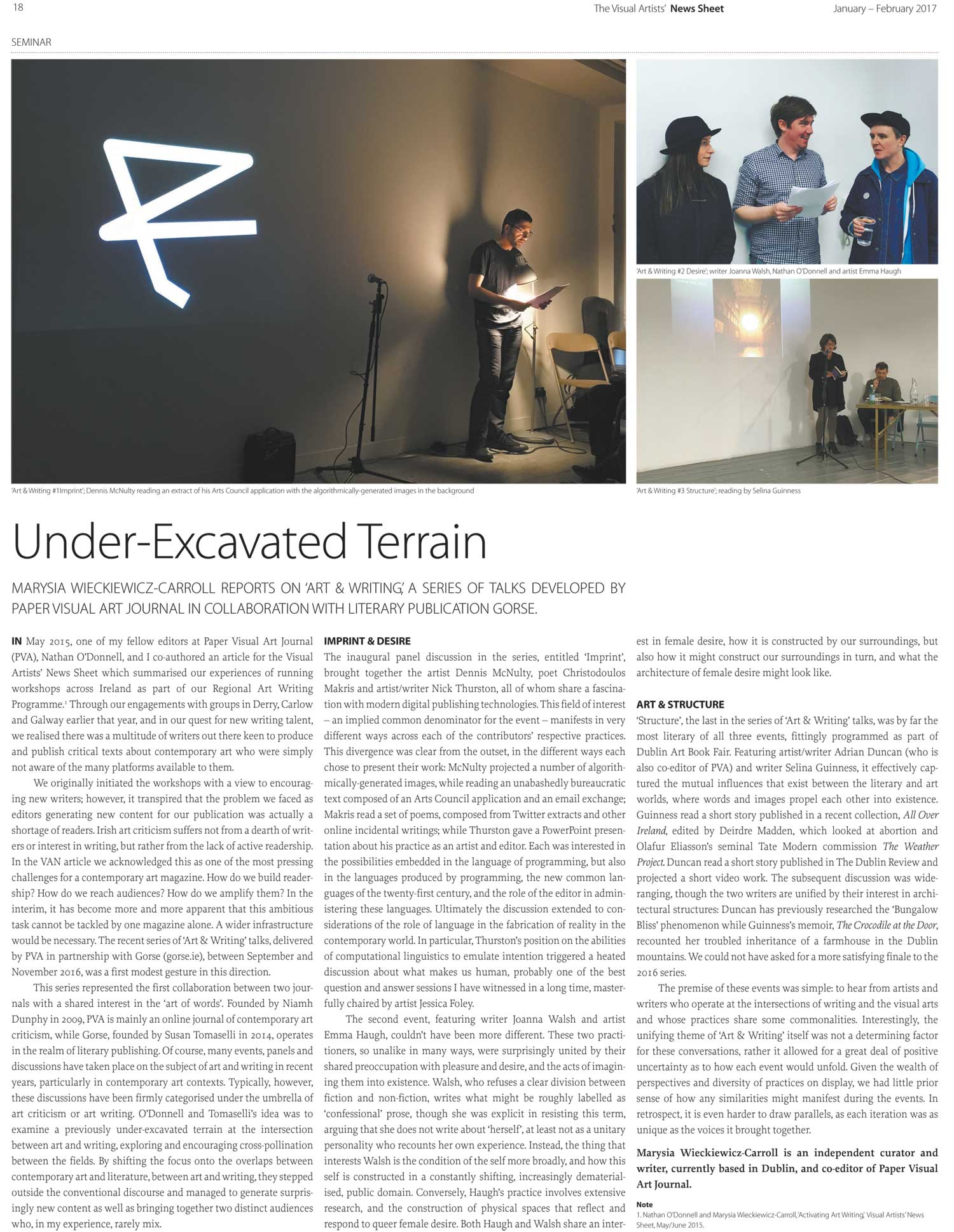 A report in Visual Artists' News Sheet on last year's Art+Writing series in partnership Paper Visual Arts journal:
We originally initiated the workshops with a view to encouraging new writers; however, it transpired that the problem we faced as editors generating new content for our publication was actually a shortage of readers. Irish art criticism suffers not from a dearth of writers or interest in writing, but rather from the lack of active readership. In the VAN article we acknowledged this as one of the most pressing challenges for a contemporary art magazine. How do we build readership? How do we reach audiences? How do we amplify them? In the interim, it has become more and more apparent that this ambitious task cannot be tackled by one magazine alone. A wider infrastructure would be necessary. The recent series of 'Art & Writing' talks, delivered by PVA in partnership with Gorse (gorse.ie), between September and November 2016, was a first modest gesture in this direction.
This series represented the first collaboration between two journals with a shared interest in the 'art of words'. Founded by Niamh Dunphy in 2009, PVA is mainly an online journal of contemporary art criticism, while Gorse, founded by Susan Tomaselli in 2014, operates in the realm of literary publishing. Of course, many events, panels and discussions have taken place on the subject of art and writing in recent years, particularly in contemporary art contexts. Typically, however, these discussions have been firmly categorised under the umbrella of art criticism or art writing. O'Donnell and Tomaselli's idea was to examine a previously under-excavated terrain at the intersection between art and writing, exploring and encouraging cross-pollination between the fields. By shifting the focus onto the overlaps between contemporary art and literature, between art and writing, they stepped outside the conventional discourse and managed to generate surprisingly new content as well as bringing together two distinct audiences who, in my experience, rarely mix.
[…]
The premise of these events was simple: to hear from artists and writers who operate at the intersections of writing and the visual arts and whose practices share some commonalities. Interestingly, the unifying theme of 'Art & Writing' itself was not a determining factor for these conversations, rather it allowed for a great deal of positive uncertainty as to how each event would unfold. Given the wealth of perspectives and diversity of practices on display, we had little prior sense of how any similarities might manifest during the events. In retrospect, it is even harder to draw parallels, as each iteration was as unique as the voices it brought together.