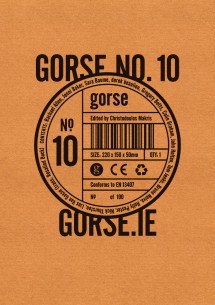 gorse no. 10, September 2018
Limited edition box set of 100 copies
Subscribers (€35 inc P&P)
Sold out
Ireland (€40 inc P&P)
Sold out
UK/Europe (€45 inc P&P)
Sold out
Rest of the World (€45 inc P&P)
Sold out
No. 10
Edited: Christodoulos Makris
Featuring:
Rachael Allen
Jenni Baker
Sara Baume
derek beaulieu
Gregory Betts
Colin Graham
John Holten
Tom Jenks
Bruno Neiva
Holly Pester
Nick Thurston
Lies Van Gasse (trans. Rosalind Buck).
Cover design: Niall McCormack
Feature: gorse 10 on the Book Show RTÉ, November 2018. In a special broadcast on artists' books, Sara Baume & Christodoulos Makris talk about the theory inside the box [16:50 mark].