Dublin Art Book Fair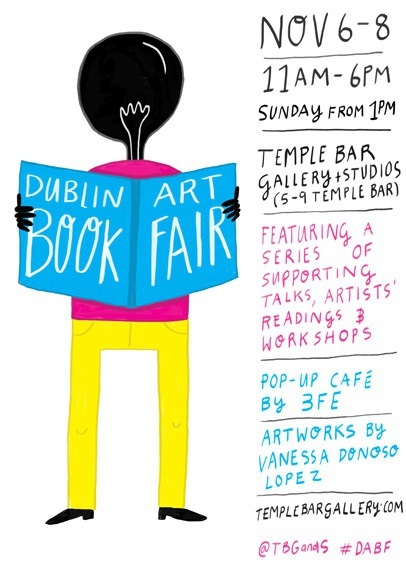 gorse will be participating in the fourth Dublin Art Book Fair 2014, at Temple Bar Gallery + Studios, 6th–9th November:
7th, 8th + 9th November 2014
Friday + Saturday: 11am-6pm
Sunday: 1pm-6pm
Launch Reception/Preview: Thursday 6th November | 6pm

Temple Bar Gallery + Studios are delighted to present the fourth edition of the Dublin Art Book Fair.

Each year, the Dublin Art Book Fair offers the latest art, photography and related books published in Ireland and internationally. It aims to offer a succinct snapshot of contemporary art publishing worldwide.

Running for the past three years, the fair features a range of publications from invited publishers and publishing houses, as well as an open submission artist's books and zines area. In addition to offering books from over 30 international publishers the fair will boast a comprehensive collection of aesthetically focused literature and unique one-off editions including everything from photography, graphic design, sculpture and painting to curation, politics and philosophy.

The programme for the fair will also include a series of supporting talks and workshops, artists' readings, artworks and a pop-up café.

Book Fair Events:
All weekend:
Pop-up café by 3fe
Artworks by Vanessa Donoso López

Thursday 6th November:
6-8pm | Opening reception for the Dublin Art Book Fair 2014.

Friday 7th November:
5pm | Book Launch: Mark Clare: I Believe in You
New publication by artist Mark Clare published by Crawford Art Gallery, Cork and supported by Language Design, Dublin.

Saturday 8th November:
2.30pm | David Wall from design studio Conor & David discusses their collaborative design process.

Sunday 9th November:
2-5pm | Show+Tell Event: Read That Image | €5 | Max 8 people.

Show+Tell is an informal get together for visual artists and photographers to share their photobooks in a friendly, open environment, allowing them to receive practical feedback with the aim of realising their books' full potential. Artists are encouraged to bring along their photobooks, whether in the early stages of a maquette or dummy, or as a finished publication, with the view of using these books to stimulate group discussion amongst participating artists. Surrounded by a wealth of publications from all corners of the globe, and drawing on Read That Image's collective knowledge, this promises to be an event full of inspiration and revelation.