Farewell to Ferrara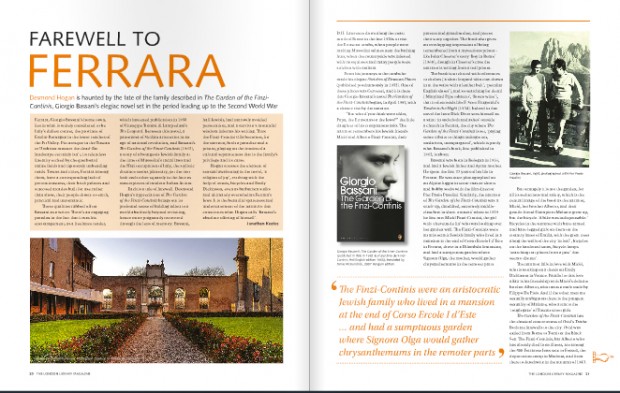 Desmond Hogan has an essay on Giorgio Bassani's The Garden of the Finzi-Continis in the current issue of the London Library Magazine.

At the end of January 1995, shortly before I returned to live in Ireland after 18 years in England, I cycled through Jewish Amsterdam, to the Portuguese-Israelite Hospital at the corner of Rapenburg and Rapenburgerplein with its blue and green emblem of a pelican feeding it's young on its own blood. It was now a warehouse. The Jewish Council headquarters on Niewe Keizersgracht was now occupied by an acupuncturist, a television filmmaker, an industrial graphic artist. From there I cycled to the house on Gabriël Metsustraat in south Amsterdam where Etty Hillesum lived, whose diaries and letters were published by Persephone Books in 1999 as An Interrupted Life. Like Micòl Finzi-Contini, Hillesum was a student of literature. She died in Auschwitz in November 1943. She'd gone there with a Tolstoy book. It was over 20 years since I had first read The Garden of the Finzi-Continis in the 1974 Faber edition translated by Isabel Quigley, but the fate of the Finzi-Continis, like that of Hillesum, was something that haunted me and that I still ponder often, and had driven me to these memorial bike trips in the rain.
Desmond reads at our launch night, Tuesday 25th March.