Background Thrum of History's Engine: Geoff MacCormack interviewed by David Gavin
"What a terrifically clever idea this is. I am all kinds of shades of green as I didn't think of it first. Take the two of us and pretend that we went to America, Japan and, wait for it, fucking Russia of all places, me as a rock star and you as a cheerful backing singer and sidekick and then write a book about it. Brilliant! Will you actually be able to get this stuff published, do you think?"

– David Bowie, from the foreword to From Station to Station: Travels with Bowie 1973- 76
Back in January 1973, Geoff MacCormack was selling advertising space for a London construction magazine when he was head-hunted in the most astounding manner. A telephone caller told him ("Forget being asked") that he was to provide backing vocals and percussion for Ziggy Stardust's band, the Spiders From Mars, during their forthcoming world tour. The voice on the 'phone belonged to David Bowie. By the end of the month, MacCormack (along with his camera) was bound for New York with his famously flight-phobic new boss on the opulently appointed SS Canberra.
"If that wasn't cool enough," he recalls, "David wasn't keen to fly, so we travelled to America, Japan and Russia by road, sea, and rail, which was an absolute bonus. The week-long cruise to New York was as un-rock 'n' roll as it gets, so we'd kill the boredom by dressing for dinner, getting blotto, and chatting with our fellow passengers. During dinner we'd do our Oscar Wilde and Bosie routine: I'd ask David, 'More vegetables, my dear Oscar?' And he'd roll his eyes disdainfully and say, 'I find vegetables so very vulgar.' Obviously, we stood out a bit!
"That slow rhythm of life just made New York seem even wilder when we got there. As we drove from the docks through Manhattan, with Bowie pointing out various landmarks, I felt as though I could explode with excitement. When you think that half of Bowie's management staff were former Andy Warhol associates, and we were hanging out with the New York Dolls, the whole thing was utterly surreal," laughs MacCormack. "The first time I ever performed on stage was notable for three reasons: I'm with Bowie; we're playing New York's Radio City; and Salvador Dalí is in the audience – a fairly surreal circumstance, in itself!"
MacCormack's rock 'n' roll peregrinations saw him brush egos regularly with luminaries such as John Lennon, Elizabeth Taylor, and even William S. Burroughs, but he could hardly be described as starstruck. As he sits in his basement kitchen sipping coffee, he positively radiates playfulness, and it's easy to see why Bowie saw fit to assign MacCormack the role of rock 'n' roll Passepartout to his Phileas Fogg. The pair that are chronicled in the book – 'Davie Stardust' and 'Macmatout' – make for a likeably singular double act.
"I remember Dave and me going to a party that John (Lennon) was at and all sorts of other people were there. John had promised a New York D.J. that he'd do a live radio interview that evening, so halfway through he says: 'I've got someone here that you may like to speak to,' and he's putting people on the line like David Bowie and Art Garfunkel. It must have blown the guy's mind completely. But all those celebrities just seemed like other guests at the party at the time. William Burroughs was an incredible-looking guy with staring eyes: like he'd seen a lot of things I'd rather not see."
When asked which encounter impressed him the most, MacCormack replies without preamble. "Our heroes were the soul greats like Otis Redding. I remember one night in L.A., David, a wonderful singer called Claudia Linnear (the inspiration for Bowie's 'Lady Grinning Soul' and 'Brown Sugar' by the Rolling Stones), and I went to see Bobby "Blue" Bland perform. We're sitting up front and completely stoned, and after a while, I sing a line in David's ear, so he sings back a harmony, which gets Claudia's attention and she joins in. So now we're singing a three-part harmony along to this soul genius. Suddenly, one of Bobby's guys sends the microphone over on a stand. I mean, to mods like us, Bobby Bland is an absolute idol, and there we are singing backing vocals with the man. As I say in the book, we were in soul heaven, carried in the generous arms of a legend."
Nice work, if you can get it. Mind you, Geoff and Dave go back a long way, having attended Burnt Ash Primary School together (in Bromley, Kent), and having sung in the local (St Mary's Church) choir as cherubic eight-year-olds. Less angelically, their private musical tastes embraced Fats Domino and Screamin' Jay Hawkins, the latter of whom MacCormack's mother felt to be an exponent of "the devil's music". Bowie recalled recently that MacCormack always had a great voice; while for Geoff's part, the mate formerly known as David Robert Jones had much to recommend him as a youngster.
"I'd go to his place and he always had these comics that no one else had. He was intrigued by Americana back then. Later, I got him into James Brown, and he played me Van Morrison's work. And as he got older, it became so obvious that he had a very different agenda to everyone else; he read a lot and practised guitar and saxophone prodigiously."
In the late sixties, while Bowie tried out various artistic personas, self-proclaimed "social animal" MacCormack found work with the jive-spouting D.J., Emperor Rosko, singing jingles and driving his Roadshow bus. Skite forward to 1972, and he is contributing backing vocals to his pal David's widescreen, "Ziggy-in-America", Aladdin Sane album (1973).
"I also sang on Hunky Dory (1971), but I can't remember much about that, except that it was really good fun. It was more a karaoke party than a career move! With the tour, the joke was I ended up staying with David for three years and, during that time, there was a lot of laughter."
The pair's adventures, which are captured in MacCormack's winning photographic travelogue From Station to Station suggest a Monty Python-scripted version of Around the World in Eighty Days. Nicely set off by Bowie's droll introduction, the elegantly packaged opus features MacCormack's uniquely intimate photographs, which include "holiday snaps" of Japanese press hysteria, and a shot of Bowie meeting Russian villagers, having stepped off the Trans-Siberian Railway. In late 2008, Rockarchive – purveyors of limited edition prints – turned some of MacCormack's photos into highly covetable, frameable images. Throughout the book, it's clear that the "old mockers'" global wanderings exposed the pair to experiences not usually reserved for 1970's rock aristocracy.
"On the train from Moscow to Paris, there was a drunken attendant who shuffled around doing odd jobs. Although he sometimes grimaced in our direction, we didn't have much to do with him. But near East Berlin, as he becomes increasingly sloshed, he keeps opening our cabin door and shouting something incomprehensible at us. When he tries to chuck us out, we lock the door on him, but the next thing we know, he's battering our door down!" laughs MacCormack. "As the cabin door begins splintering, we put our weight behind it to keep him at bay. Then, suddenly, all is still: the train has stopped and we are at the last checkpoint of communist Europe. I glance towards David, who looks as shaken as I feel.
"Soon there's a rap on the door and we open it to a woman flanked by two mean-looking guys in trenchcoats. 'Passport!' she demands and, with much fumbling, we deliver. Feeling more confident, I try to explain our attendant's behaviour through the medium of mime. Raising an imaginary bottle to my lips, I stagger and point towards our lunatic friend who is snorting scarily in the background. The woman's face shows utter contempt. 'Visas!' she spits.
"Not having visas, we just stand there looking lame. The woman, the trenchcoats, and the crazed attendant consulted, while David and I wonder exactly which visas they are on about. Then a trenchcoat produces some papers, stamps some pages and hands them to us. We can almost read their thoughts: 'Why should East Germany be saddled with these two pathetic degenerates? Let the West have them…'"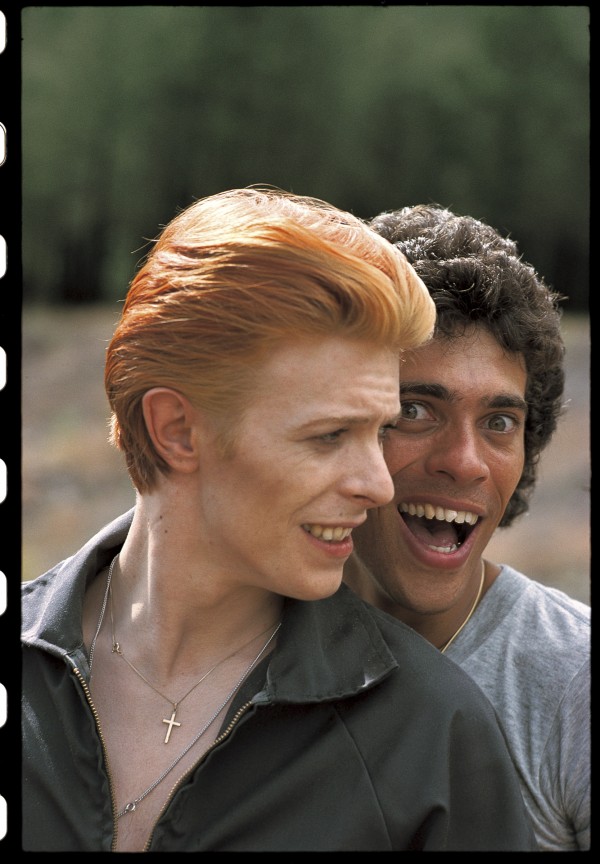 Behind the bonhomie, the background thrum of history's engine can be heard in this book, like existential tinnitus. There's a sense of Bowie's exposure to Japan, Russia and East Germany inspiring him to reconsider the direction of his life and art; as if the weight of world history provides the impetus for a spiritual and creative remapping. And, although Station to Station (1976) was recorded in Cherokee Studios, Los Angeles, there's little American about the album. The grey austerity of life behind the Iron Curtain surely inspires the Pabstian starkness of these songs, with their corrugated iron chord changes and plangent visions. The Brechtian lighting of the Station to Station tour has been well-documented, and some of the Thin White Duke's movements evoke the biomechanics of the Russian actor and theatre director, Vsevolod Meyerhold. From "flashing no colour", Bowie plunges straight into the Technicolour brilliance of the Brian Eno-assisted Berlin Trilogy of albums: Low (1977), Heroes (1977), and Lodger (1979). Tellingly, the monochromatic tone (and sleeve photo) of Heroes shunts back to the sombreness of the Station to Station set, as if something unresolved is being returned to.
Between being terrorised by East German officials and enjoying regulation bouts of rock 'n' roll excess, MacCormack made notable artistic contributions during Bowie's periods of creative overdrive. He's credited (under the Tolstoyan stage name Warren Peace) on the Diamond Dogs album as co-writer of 'Rock 'n' Roll With Me', and he would subsequently help Iggy Pop write a song, 'Turn Blue', for his error-refining Lust For Life album. Warren Peace's parting shot was to contribute backing vocals and ideas to the peerless Station to Station set. And there was a laughably unlikely stint as a Bowie body double during the making of The Man Who Fell to Earth film in New Mexico.
Eventually, a homesick MacCormack returned to Kent, while Bowie took time off to paint. One can only imagine MacCormack's travails in adapting to workaday life, having spent three years experiencing the Mr Benn adventure to end them all; one which involved becoming a rock musician of sorts in the process. But, although he made worthwhile creative contributions, MacCormack was strikingly uninterested in capitalising upon his good fortune.
"I have to say I never proferred my services as a collaborator during those years," he concedes. "That was always a spontaneous thing. With 'Rock 'n' Roll With Me', I was bored one night so I go over to David's for a coffee. I'm messing around on the piano – playing what becomes the song's verse – and he says: 'Hang on a second!' Then he just starts playing away, and that's how the song was born. I remember the night Bowie first played that song live. He says: "This next song was co-written by Warren Peace", and the other people in the band do a treble take! During the Station to Station sessions, David would often be singing me stuff and asking me what I thought. I even got to sing a lot of the vocals on 'Golden Years', as David had lost his voice, which was really pleasing to do. He was very receptive to any ideas I might have, and didn't tend to get precious about songwriting. Sometimes he'd look up when he was writing songs and ask: 'You alright, mate?' Perhaps he thought I was bored. I didn't really think of myself as a songwriter back then, though."
Later, MacCormack would win Ivor Novello and Gold Clio awards for his work on film scores and television adverts. (Biography fiends may be interested to know that Ivor Novello – who did business under the name David Ivor Davies during his formative years – spent much of his youth in Biggin Hill, which is eight miles away from where David and Geoff grew up in Bromley, Kent). MacCormack also reached number 3 in the British charts with 'Only You' as part of the new-age-inflected trio, Praise.
Ultimately, what may surprise readers of Station to Station is The Thin White Duke's jokey, relaxed demeanour throughout the book. One scene depicts a gloating Bowie carrying MacCormack home after a marathon Gold Tequila spree, and another an impromptu acoustic set performed for an assortment of shipmates, which included a pair of uncomprehending KGB spooks. Then there was the time a rather high MacCormack forgot to help lift Bowie into the air (in a supine position) during a concert, and left his fellow vocalist/dancer, Gui Andrisano, to do it by himself. This lapse raised laughter rather than recriminations from Bowie.
MacCormack also recounts a proto-Fawlty Towers skit that the pair performed for fans in an English bar, featuring Bowie as the buttoned-up English diner and MacCormack as the incompetent waiter. "That involved a fair bit of broken glass, but the barman didn't seem to mind, and just kept replacing the glasses.
"My favourite story, though, is when we were at Dave's place on Doheny Drive in LA listening to D.J. Shadow on the radio. It's Shakespeare's birthday and Shadow is playing all the English stuff like the Goons and Monty Python. David says he wants to do an extra-sensory perception test with me as the medium. I have to think of unlikely objects that, to my knowledge, aren't in the room and then write down what they are. I come up with "pyramid", "windows", "children", and "tree". So we search the room and find nothing like that. Eventually, though, David finds an old Christmas card wedged behind a drawer: it has a pyramid-shaped Christmas tree with windows all over it – and behind that are children's faces!
"Then we decide to go and visit D.J. Shadow and take him a present, so we take a book from the shelf and give it a mock Complete Works of William Shakespeare cover. When we turn up at the radio station, the minute we park the car, Shadow puts on his first Bowie track of the night, 'Young Americans', and it's playing as we go in. Bizarre! So this D.J. guy is doubly freaked out. We chat with him and give him the book and, as we're driving back, we're tuned into him babbling to his listeners: 'David Bowie's just walked in with his friend, Geoff, and they gave me a book of Shakespeare's works… But it isn't really… It's a book about quantum mechanics!' No one would have believed him, of course."
Which anecdotage is an antidote to the tacky stuff that often gets written about Bowie, and this may partly explain Mr Jones' delight with the book. Meanwhile, MacCormack's former policy of speaking to the press only when Bowie specifically asks him to helps explain the Geoff MacCormack-shaped hole in previous biographies.
Anyone who hurtles through this endearing photographic travelogue/memoir will be charmed by MacCormack's affable raconteuring. "I've just never liked that gossipy approach to biography," he confides. "It's so reductive and gives little sense of the reality of someone's being. David's very astute and a good businessman, so he will use his wiles to avoid being misrepresented in the press. But he's also great fun and has a delightfully silly side. Our relationship is one of warmth – almost like family. I'm sorry I can't say anything controversial, but that really is the truth."
From Station To Station, by David Bowie & Geoff MacCormack, is a signed limited edition book of 2,000 copies from Genesis Publications.
[Image: © Geoff MacCormack / Genesis Publications 2013]