Shutter open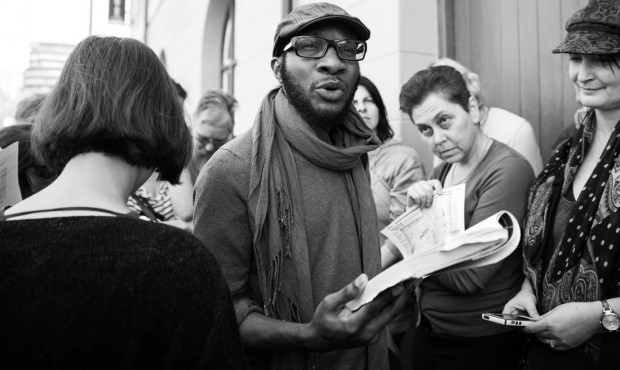 Interview with Teju Cole at The Millions.
In this work of fiction, Every Day Is for the Thief, you are describing objects that were never there. So when I read this work of fiction and see these photographs, suggesting you are taking pictures of real things…it's jarring.

Well the thing you are reading was not made out of whole cloth. Already a lot of what you are reading leans toward memoir. But you know a lot of it must have been made up, not just because of the label, but because of some of the texture of the recollection. It is too precise not to be made up in some way. There are a number of coincidences in this book that almost nobody picks up that I'm embedding inside the text. So then you're struggling. "It's reading a lot like a memoir, but I want it to be fiction because it says it's fiction." And then you see these photos and it seems someone went on a trip and took these photos.

[Points to picture of a goat on the street, which relates to a passage in the book.] I'm not trying to pat myself on the back, but…I didn't have to set that up. It's a street photo. It was by chance and by patience and just by the way anyone makes a street photograph that's worth keeping. One thing I'll say about this photograph is that this photograph appeared about seven years after the text, but it wasn't posed. It is a street scene from Lagos. [These photographs] are also works of fiction.
[Image]