Space maker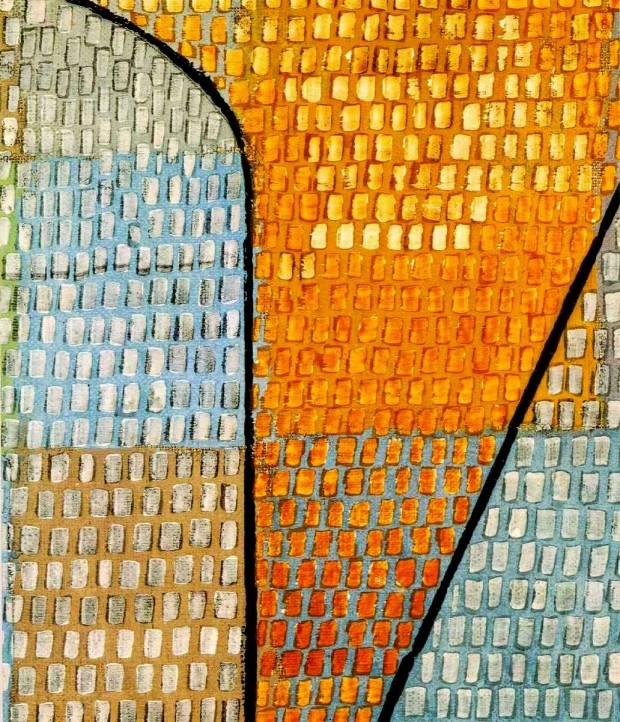 In the London Review of Books, T.J. Clark reviews Paul Klee at Tate.
Cubism remained a matrix. Klee realised that others had bent it to their purposes: Mondrian's sensibility, after all, was as remote from Picasso's as Klee's own. In and around 1923 Klee found a way to make even the tight cubist grid do the work he wanted – by inserting enough brighter and lighter squares into the chequerboard, each of them beckoning the eye through the foreground into depth, so that the surface came to look as if it were a kind of transparency 'really' hung across a glimpsed infinity on the other side. Once he had the basic idea he often returned to it, varying the size of the squares, the regularity of the grid, the translucency of the veil. The series of glittering watercolours and oils done in 1931 and 1932, using stippled dots or tiny oilpaint tesserae – paintings like Castle Garden or Semi-Circle with Angular Features – strikes me as the high point of this kind of space-making. The Whole Is Dimming (Das Ganze Dämmernd), reads the title of one of them, summing up the vision.

The dimming whole is fragile. Whimsy and weakness are deliberately close much of the time in Klee – because the alternative, in the world of Die Rote Erde, is an undimmable grasp of totality. This is the worldview his art wished to refute.

It is not surprising that in the high age of modernism an art of Klee's kind was written about superbly. Painting for him was intertwined with language. The rebus and hieroglyph were close. Titles regularly half-enter Klee's picture space, inked in neatly along the bottom edge, and beautiful in themselves. Word and image are out to seduce us; and yet the best criticism of Klee has been not quite willing to fall under his spell. Greenberg was clearly out to resist. The first version of his great Klee essay appeared in Partisan Review in 1941 – a kind of obituary, written in dark times. The second, published nine years later, from which I have quoted, is crafted with extraordinary tact, but nonetheless seems to be trying most of the time to 'place' its object without condescending to him. Compare the inexorable Marxist Otto Karl Werckmeister. He spent long years, in the 1970s and 1980s, pursuing Klee down the alleys of compromise and equivocation that accompany the career of art in our time, and gave us our clearest – and in the end, most compassionate – picture of Klee face to face with war and revolution. We all go to Werckmeister – I do just as much as the writers in the Tate catalogue – for those moments at which, in a letter or scribbled sketch, the Man-Animals come crashing through the Castle Garden walls.