The flâneur on film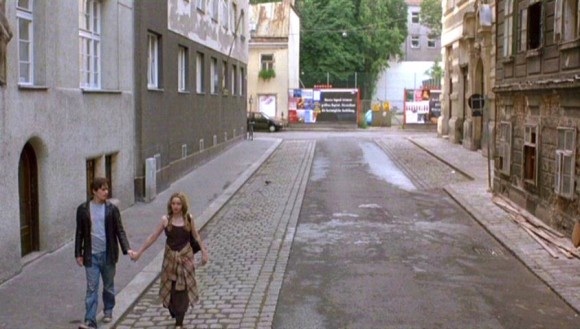 Rob Stone on Richard Linklater and the dérive in cinema.
The flâneur's accumulation of experiences and influences often results in an indistinct outcast figure, one who walks to a different rhythm, defined and maintained by an absence of clear origins and a lack of explicit direction. Consequently, the flâneur can be disruptive where a sense of rootlessness and rejection of settlement renders the figure as threatening Other. This outsiderness can inspire empathy, which Walter Benjamin describes in his essay on Baudelaire as 'the nature of the intoxication to which the flâneur abandons himself in the crowd' (2006: 85); but the flâneur mostly drifts in a kind of pilgrimage to aimlessness, which is parodied in the frustrated efforts of the faithful to reach their illusory, sacred yet profaned objective in La Voie lactée (The Milky Way, Luis Buñuel, 1969). The association of urban drift and psychogeography with idleness in Slacker and other films directed by Linklater has also been dismissed as laziness, yet the oppositional movement of the slackers who also feature in Dazed and Confused (1993), SubUrbia (1996), The Newton Boys (1998), Waking Life (2001), and The School of Rock (2003) is quietly revolutionary. Refusing to follow rules or lines in Republican America leads them to formulate a structural and dialogic strategy that favours intertextuality as much as criss-crossing cities and even oceans, ending up in Vienna, for example, in Before Sunrise (1995), Paris in Before Sunset (2004) and Messinia in Before Midnight (2013).

The short film Between Sunrise and Sunless is an attempt to combine elements of flânerie with an interest in film tourism, even pilgrimage. It was shot in Vienna on 16 June 2013, which is James Joyce's Bloomsday, the most ordinary day of the year, and exactly eighteen years on from the events of Before Sunrise. The book on Linklater had just been published and it was time to put some of its ideas into practice in the manner of several film scholars in the UK, such as Catherine Grant and William Brown, who are breaking ground by producing and integrating short and even full-length films, video essays and online media into their teaching and research. The original idea was to record a cinematic pilgrimage, to understand how a film affects a place and investigate how that place is affected by the film. This kind of film tourism is a world apart from the Universal Tour in Los Angeles or the Harry Potter Experience in London, where everything is practiced, limited and laid on. Neither is it the same as taking the official, organised and guided 'Vertigo Tour' in San Francisco, 'The Godfather Tour' in Sicily, 'The Da Vinci Code Tour' from Edinburgh, 'The Sopranos Tour' in New York or 'The Lord of the Rings Tour' in Wellington, although each hold significant pleasures. Instead, there is much to be said for the uniquely personal, certainly metaphysical and even occasionally transcendental experiences of chasing down replicants in Los Angeles a few shrinking years before Blade Runner (Ridley Scott, 1981) will actually take place or visiting the towers, canals and alcoves actually in Bruges of In Bruges (Martin McDonagh, 2008). There was also an element of affective criticism that followed (and was perhaps validated by) Robin Wood, who wrote in Sexual Politics and Narrative Film: Hollywood and Beyond (Columbia University Press, 1998) that he felt compelled to preface his analysis of Before Sunrise with the admission that 'here was a film for which I felt not only interest or admiration but love' (1998: 318). Was it possible to follow the example of Wood, who not only shared his passion but made it an essential component of his craft?
[Via]