The Short Fiction of Flann O'Brien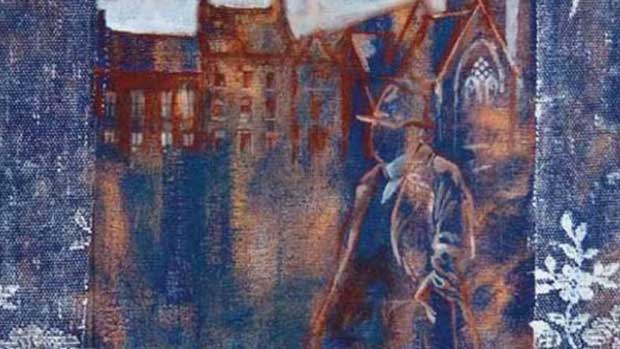 By Adam Rivett.
Flann O'Brien didn't have much respect for the traditional novel as we've come to know and scarcely tolerate it. At-Swim-Two-Birds, his first, can barely get started before it's wandering down the winding track of digression and self-conscious hyperbole, all tongue-in-cheek mythology and undergraduate linguistic bluster. His second (and arguably greatest) novel, The Third Policeman, trades in the virtuoso style of the debut for a plainer prose, but, indisputably, a bleaker world view. Play becomes despair, and youthful drunken rhetorical games grow surreal and morbid. There was, from the outset of O'Brien's work, a fundamental impatience with received forms. The 'ideal' novel that is so often rewarded these days – realist, tightly plotted, tastefully 'well written,' and above all consistent – is not O'Brien's. Yet Birds is one of the 20th Century's great debuts. Its voice – sardonic, harshly original, comfortable in numerous registers – seems formed and confident from the start. Reading the small amount of pre-Birds material in the new collection The Short Fiction of Flann O'Brien, then, gives us, among other things, the only clue we have as to how the man otherwise known as Brian O'Nolan got it so right so fast.
Two thirds of the title under present investigation – just shy of 100 pages in total – consist of early short fiction, divided into two sections: 'Short Stories translated from the Irish' and 'Short Stories in English.' Though this is work has been collected before, this reprint, courtesy of the always superb (and in this instance wholly apt) publishing house Dalkey Archive, is genuinely welcome. These early translated stories employ not just the standard wordplay expected of O'Brien, but tinker liberally with font and layout. One ends with a character announcing they are Napoleon, out of nowhere. Another, the genuinely odd story 'Revenge on the English in the year 2032!', involves the fooling of a future Englishman with an Irish dictionary. Yet another short, 'The Tale of Black Peter,' clearly foreshadows At-Swim-Two-Birds playfulness with Irish mythology.
​These sketches play all the games of bombast and put-on familiar to a reader of O'Brien's novels. They are the kind of newspapers sketches and pub tall tales he might have knocked off in an afternoon, with scant regard for classic shape or traditional endings. Their endings are frequently abrupt and ridiculous, their plots more a chance for a lark than anything else. Yet even in these moments of juvenilia there is frequently quite sophisticated linguistic play afoot. Indeed, upon reading the translator's thorough introduction to this section of the book, a sensitive reader might be easily dissuaded from the challenge, convinced nothing of the original's charm would remain. Luckily this is not the case, but it's nonetheless a necessary reminder that translated humour often only goes so far.
​Then there are the stories originally written in English. As the introduction makes plain, many of these shorts contain the seeds that would bloom into Birds, and while often the stories lack Swim's high rhetorical power and note-perfect mimicry of high and low forms, they are still adept and skillful creations. Or, to put it another way: they're good, just not quite as funny. If reading the juvenilia of a master reminds a reader of one thing, it's that not everything worked from the start, and so it is with, for example, 'John Duffy's Brother,' an otherwise engaging bit of nonsense that nonetheless thuds to a close with a rather clunky quotation from Keats. It's an almost reassuring sight to see the author of a string of early masterpieces occasionally struggle like the rest of us; it's also a useful lesson and example in the development of a voice.
​For the most part however, the tales of exemplary pieces of proto-post-modern fiction, forever announcing their methods and calling attention to themselves, frequently opening with a writer sitting down to write a story. This is particularly true of 'Scenes In A Novel,' arguably the clearest indication of O'Brien's future direction. Others, like 'The Reckonings of our Ancestors,' utilise the 'found story' conceit to great effect. And then there's the truly ghoulish 'Two In One,' a tale which walks the line between comic and horrific more nervously than most, a small hint of the future bleakness that lies at the heart of The Third Policeman. The harshness of life isn't far from these ostensibly comic tales – there's a nearby fight or a lost weekend around the corner in most instances.
​Also included in the collection is O'Brien unfinished novel, Slattery's Sago Saga. Unfinished novels are the most curious of all literary creatures – poetic fragments and first draft short stories, can, at least, approach something like a state of completion with a small measure of readerly sympathy. Yet larger works such as novels cannot go far in the mind – the very form insist on a more developed architecture and larger cast of characters. Slattery is, in this regard, a particularly truncated affair – only seven chapters, with the story (such as it would have been in its final version) barely getting started, and in rough form anyway.
​The plot itself is simple – a plan to plant Sago (if, like the author of this review, you are unfamiliar with the particulars of the titular Sago, then Chapter 5 is for you) across Ireland to prevent future emigration should a second potato blight occur. A wild scheme, and, with time enough, a premise that would have taken O'Brien across the seas to the USA, a destination hinted at in the last chapter of the uncompleted manuscript. It certainly might have been a change of pace for this most Irish of authors, and an opportunity for some dark comedy about a genuinely tragic part of Irish history, here re-imagined as a huckster's scheme. As MacPherson puts it in the novel, 'The plan is big, but in essence reasonable and simple.' The plan, finally, was too big for Flann – he died while writing Slattery.
​For O'Brien completists, it's the two pieces that reside in the book's appendices that will be the most intriguing. The first, an early draft of 'The Martyr's Crown' is little more than a curio, but it's the second that shapes as very interesting, and highly contentious. The short story in question, 'Naval Control,' has been advanced by the book's editors as previously unpublished O'Brien juvenilia that one of his many pseudonyms has heretofore obscured from publishers' and fans' eyes alike. Detailing a surreal plan to build a robot wife for a mourning missionary, the publisher's claim might sound dubious until the story is read. There is much that we might consider O'Brien-like in the few pages that constitute the tale – his dark humour, the fantastical plot, the sketch-like brevity. Suffice to say, the case is made at length in the book, and I, no O'Brien scholar (more a casual fan) found myself ambiguously convinced. I'll leave final statement over veracity to a more learned writer, but as a provocation it's a good one, and backed up with substantial evidence and citation. It's a curious and dark tale, and worth saving from the pseudonymous scrapheap. Future scholarship may well scuttle its claims, but for now, mistake or not, it will sail.
ABOUT THE AUTHOR
Adam Rivett is a Melbourne-based writer. He has written for the Australian, the Sydney Review of Books, and Seizure.