Dream Co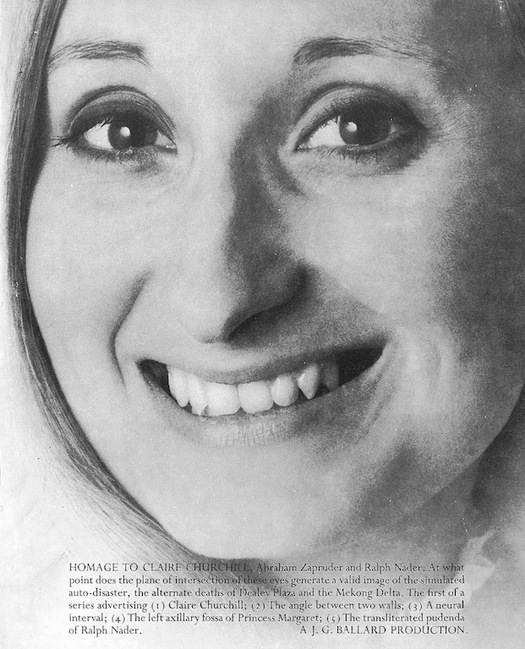 Rick Poynor on the conceptual advertsing of J.G. Ballard.
From 1967 to 1970, the British author J.G. Ballard published a series of disturbing conceptual ads in several periodicals at his own expense. The five "Advertiser's Announcements," as he called them, have been part of discussion about Ballard since they were reproduced as a set in Re/Search no. 8/9 in 1984, with a brief statement by the writer. More recently, they have been reprinted in catalogues for Ballard exhibitions in Barcelona (2008) and London (2010) and in David Brittain's book Eduardo Paolozzi at New Worlds (2013). Inevitably, copies also circulate on the Internet. While the ads are well known to Ballard's admirers and scholars, they have always been viewed within the framework of Ballard studies. There has been little attempt to place them in a broader context, in relation to developments in advertising or design.

All five of the ads appeared in Ambit, a literary magazine where Ballard was prose editor, and the first three appeared in New Worlds, where he also published regularly and had close ties. Attention has naturally focused on these highly regarded publications, but in Re/Search, Ballard says that he also ran ads in Ark — a magazine produced by postgraduate students at the Royal College of Art in London — and in "various continental alternative magazines." Without the titles, it's impossible to track down these European publications, though eventually something may surface. Ark, which Ballard mentioned again in his autobiography Miracles of Life (2008), is a curious oversight in Ballard studies; it isn't listed in David Pringle's indispensable bibliographies. Yet the magazine, published from 1950 to 1978, isn't obscure and old copies can easily be found. In 1995, Ark was the subject of a detailed study, Alex Seago's Burning the Box of Beautiful Things (Oxford University Press), based on his doctoral thesis.