European Literature Night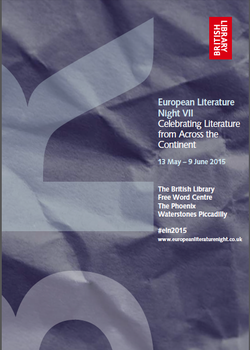 Christodoulos Makris joins Ava Vidal (UK), Baloji (Belgium/Congo), Xavier Baumaxa (Czech Republic), Joelle Taylor (UK), and Kārlis Vērdiņš (Latvia) for In Spoken Word at the British Library, May 13, as part of European Literature Night.
From the press release:
European Literature Night VII: In Spoken Word

Hosted by Ava Vidal with Baloji, Xavier Baumaxa,
Christodoulos Makris, Joelle Taylor and Kārlis Vērdiņš

In the British Library, Entrance Hall
On Wednesday 13 May 2015 from 19.00-20.30

Telling the stories of the continent through the universal rhythm of poetry, a host of Europe's most vibrant poets and spoken word artists gather together for one night only to share their work. Wide-ranging in theme and style, criss-crossing the local and the global, the personal and the public, there is something for everyone to enjoy, as well as the underlying music of the words which connects us all.