Salon Nights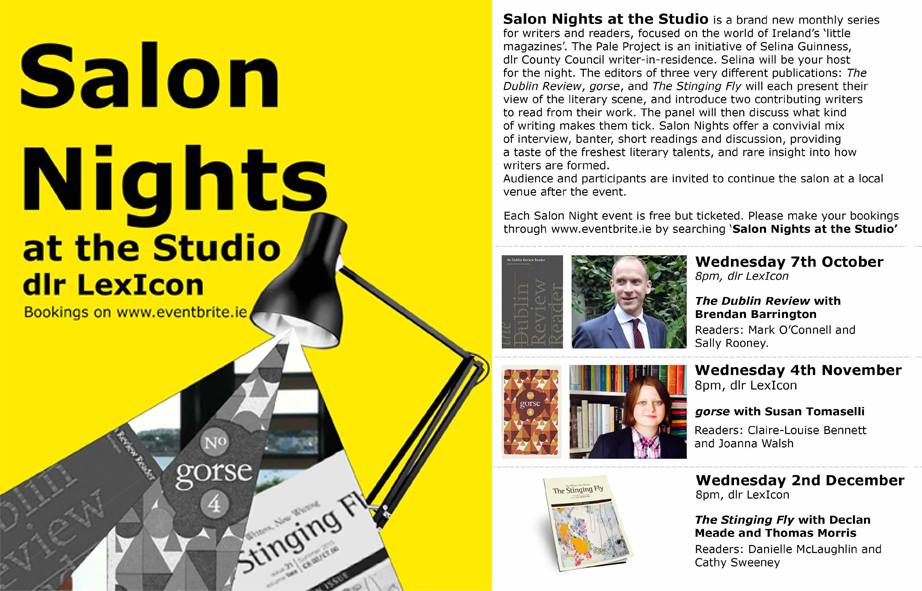 Last month, we were pleased to take part in Selina Guinness' Salon Nights at the Studio, with writers Joanna Walsh (gorse nos.  1 & 3) and Claire-Louise Bennett (gorse no. 2).
In her introduction to the evening, Selina talked of exile, a theme from the editorial to issue one of the journal, and how it could provide the conditions for innovative writing, and how emigration is fuelling a newly émigré intellectual culture. She then mentioned our contributors from Antwerp, Mexico, London, Sydney, Paris,  New York City, but said 'exile' had as much to do with style and language as location. She singled out Kimberly Campanello's sequence of poems, MOTHERBABYHOME, from the current issue, saying her redacted text was 'a model of restraint, the black re-charging each anodyne phrase with purpose and intent, making the language anew.' She also spoke of Niall McCormack's design for the playing card that came tipped in with the limited edition copies of the journal, the Queen of Hearts 'brandishing a book like an axe…a good symbol for gorse; this is literature that cuts through its readers' expectations.'
I introduced Joanna and Claire-Louise to a full house (my introduction can be read in full here), and Joanna and Claire-Louise read from their current books, Hotel and Pond. Selina then lead a lively discussion on modes of writing, the relationship between displacement and desire in Claire-Louise's work, and Joanna's erotic fairytales Grow A Pair, with contributions from me on keeping notebooks, plot resistant writing (with a nod to Mary Lavin, and of course infamous Edna O'Brien's 'Well, fuck the plot!'), autobiographical fictions (Natalia Ginzburg, Elizabeth Hardwick), and écriture féminine. Lia Mills was kind to write a brief account of the evening on her blog.
The next Salon Night takes place this Wednesday (2 December) with The Stinging Fly, and tickets are available here.